Baseball is back, and with it comes the familiar sight of umpires making bad calls. If you've been watching college baseball, you're already used to it for this year.
Essentially, the study found that umpires make bad calls around 12% of the time and when the batter has two strikes, that ratio jumps to 29%.
We already know that umpires make bad calls so what can we learn from this? For everyone not in the MLB, we're going to have to wait a pretty long while for robotic strike calling machines, so we're going to do our best to learn a lesson.
A coach told me one time, the same way I go to sleep dreaming of hitting home runs, umpires go to sleep thinking of ringing guys up. Now from this data, I know for a fact it's true.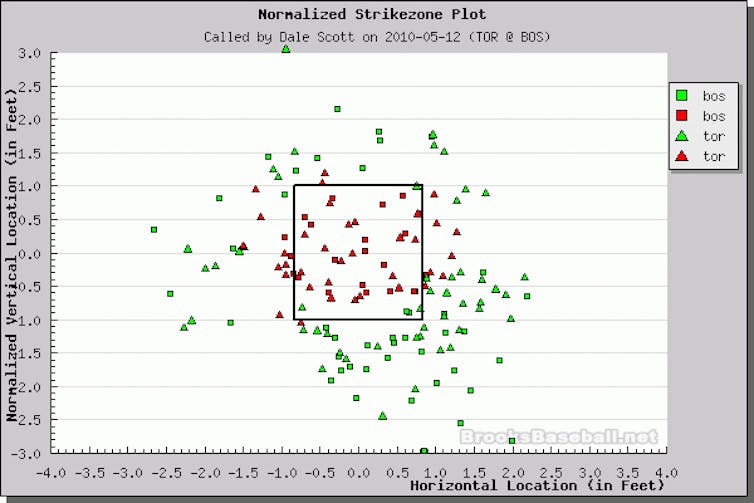 Look at the chart. This is from a Boston, Toronto game in 2010. What do you see? I see missed calls on either side of the plate – not so much up and down.
I can imagine that the missed calls were probably on the outer half (depending on whether a righty or lefty was hitting). This tells me another thing I already know – umpires expand the zone on the outer half more times then not – especially with two strikes.
What what can you do with this new information (besides get mad at umpires)? You can learn that you should never strike out on an outside pitch. THEY WILL CALL IT IF IT'S CLOSE!!!
---
Credits:
The Conversation – An analysis of nearly 4 million pitches shows just how many mistakes umpires make